እንቁጣጣሽ

….
"መልካም ዘመን ይሁን ልበል እንቁጣጣሽ፣.
ደህና ጊዜን ይዘሽ ደግሞ ደግሞ ያምጣሽ"
Ethiopian New Years Celebration will be on saturday September 9th at GURSHA restaurant.
AMHARIC SUMMER 2023 COURSES
ልጆቻችሁን የአማሪኛ ቋንቋ ማስተማር ለምትፈልጉ ይህን ፎርም ይሙሉ
Dates: June 3rd -August 5th 2023
10 Summer Sessions /Once a Week
Time: 10:00am-12:00pm
Location: Cornerstone University
**Venue: Matthews Performing Arts Center (Cornerstone Theological Seminary) Classroom #102
Address: 3000 Leonard St. NE, Grand Rapids, MI 49525
Notice:
For parents/guardians, there is a  lounge area for you to wait for your child(ren) while they are in the classroom. It'll be a great opportunity for you to meet others from the community as well.
ለወላጆች የመቆያ ሥፍራ/ክፍል አለ በዚህ አጋጣሚ ሌሎችን የማግኝት ወይም መተዋወቅን እድል ይፈጥራል።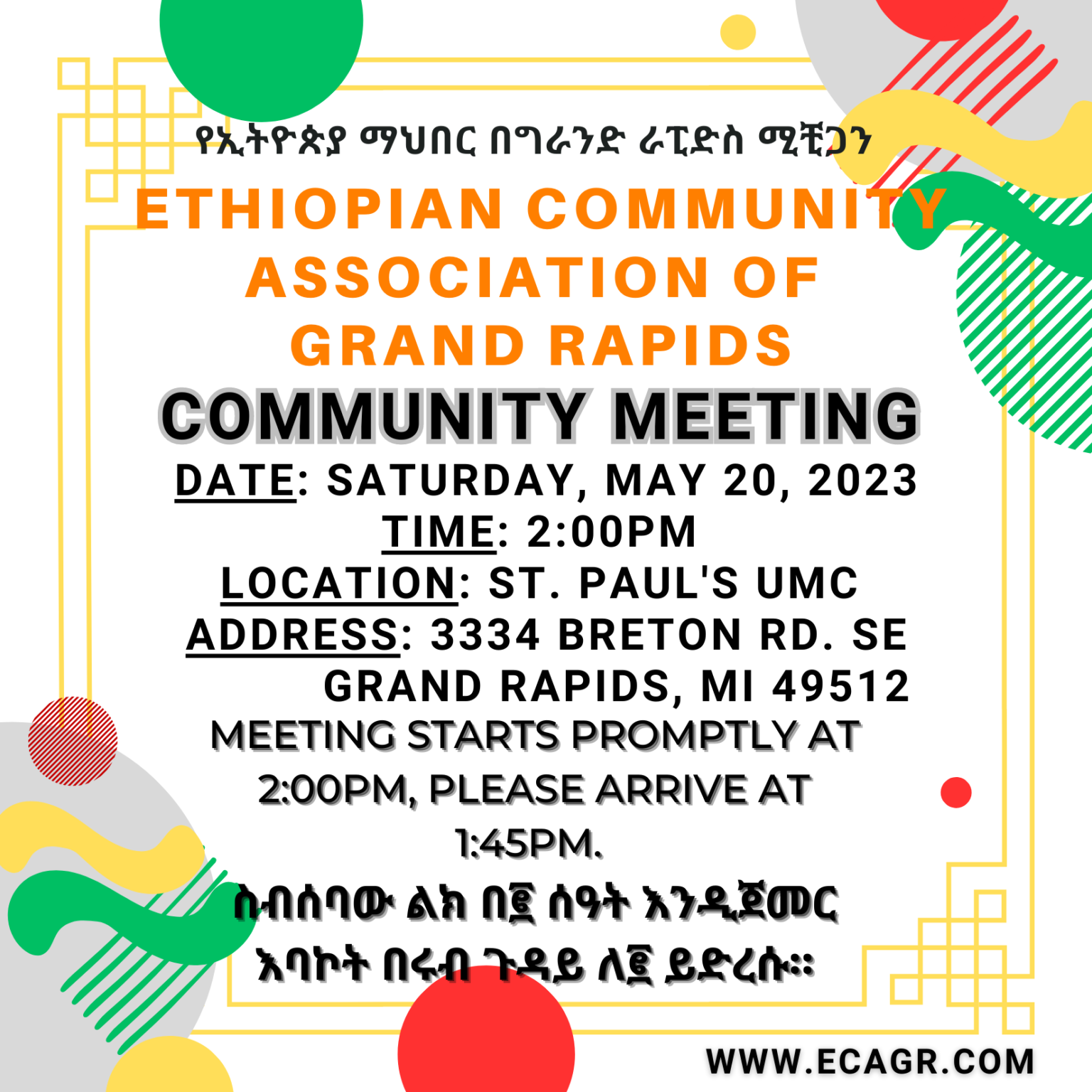 King Menelik II with his chiefs of arms.
Saturday, May 20, 2023
Time 2:00pm
St. Paul's UMC
3334 Breton SE
Grand Rapids , MI 49512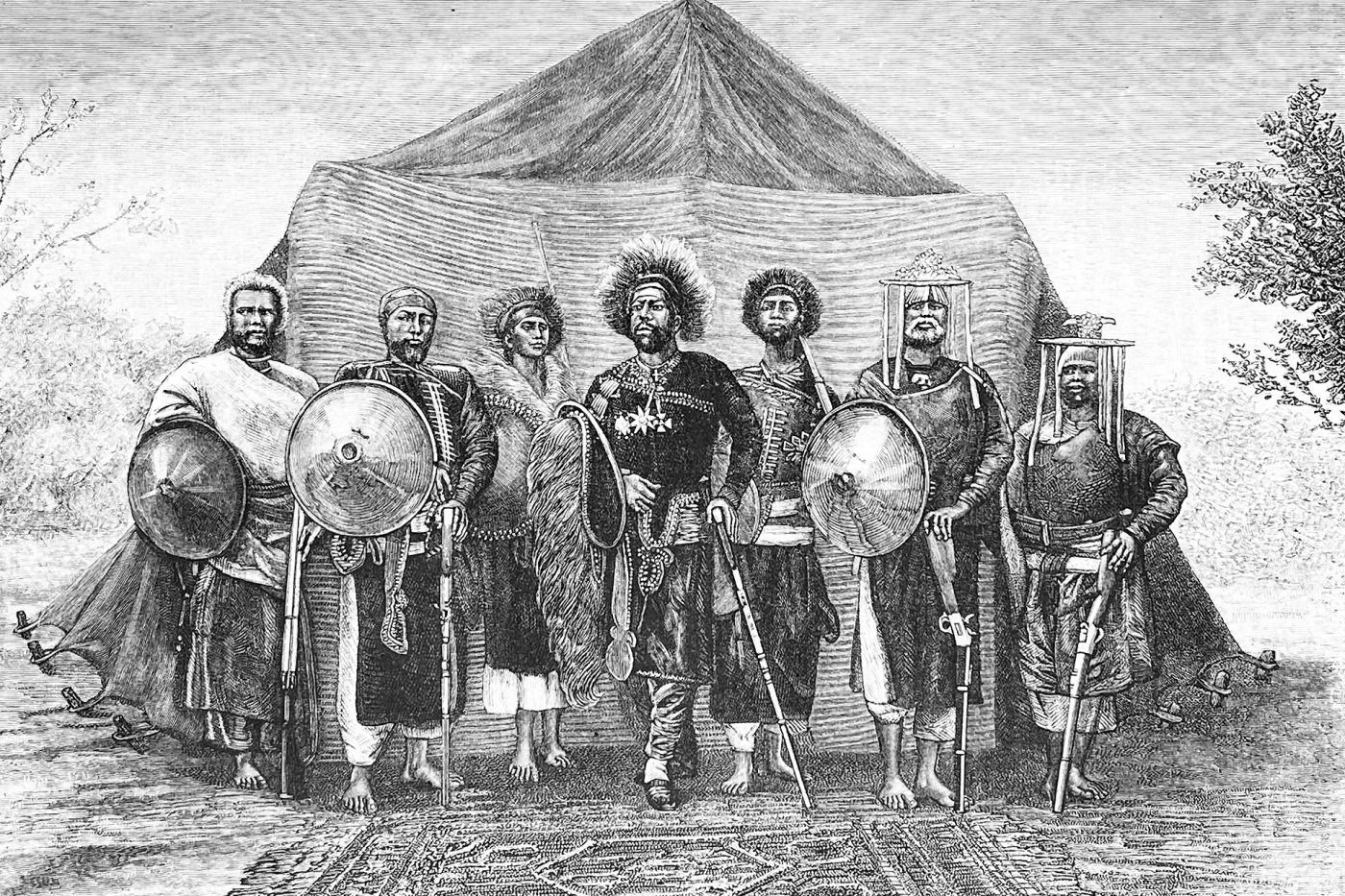 King Menelik II with his chiefs of arms.
The Battle of Adwa was an Ethiopian victory.
 The Ethiopian forces defeated the Italian invading force on Sunday 1 March 1896, near the town of Adwa.
Saturday, March 4th, 2023
from 1:00pm to 4:00pm
Kentwood Public Library
4950 Breton SE
Kentwood, MI 49508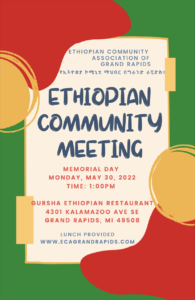 የኢትዮጵያ  ማህበር በግራንድ ራፒድስ: እና አካባቢዋ ለሚኖሩት ኢትዮጵያውያን እንዲሁም ትውልደ ኢትዮጵያውያን የማህበራዊ እና የተራድኦ እሴታቸውን ለማጎልበት ለትርፍ ያልተቋቋመ ማህበር እንደሆነና ፤ ይህ ማህበር ከማንኛውም የዘር ፣የፖለቲካና የሐይማኖት አመለካከት ልዩነቶች ነፃ እንደሆነ አቅጣጫ የተቀመጠበት ጊዜ ነው።